Import the structured and comparable bids in seconds
Since the suppliers fill in the RFQ you easily import them into our predefined evaluation model.
Read more

Evaluate the bids with our advanced algorithm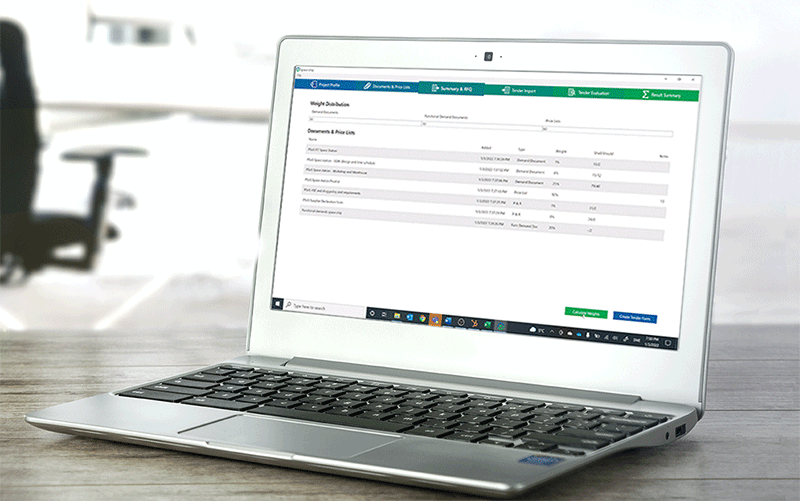 Works with and enhances your current systems - no changes.
Go on using your systems as usual. ProTendering is a stand alone software that concentrates only on demand handling, RFQ and evaluation. We simply provide you with a tool that saves a lot of time and enhances the quality in this part of the process. Read more

What Protendering is
A standalone program that complements other programs with what they lack:
A Robot (RPA) translating demands and automated setting of requirements in the preparation phase.

Automated loading and structuring of tenders.




What ProTendering is NOT
Another program for the whole process, with what others are already doing well:
Communication and management with bidders and suppliers.

Invitation and announcement of purchases / procurements.

Making contracts available to organizations.

Handling of call-offs and orders and invoicing.

Problems that ProTendering solves
Manual work

Time pressure in procurements

Lack of time for procurement projects

Lack of capacity for performance based evaluation

Unclear tender documents

The need for complex spreadsheet models

Evaluation with the lowest price as the only selection criterion



Positive consequences of using
ProTendering
Better understanding between departments as well as claimants and buyers / purchasers.

Faster implementation

More relevant tenders

Openings for innovation from suppliers

Better evaluations, based on senior purchaser's know-how.

Better understanding of claimants and management through clear results.