FINALLY A TOOL TO RELEASE YOUR POTENTIAL.
ProTendering digitizes an area that is largely handled manually today. It is the first software that gives you an advanced tool to evaluate against Total Cost of Ownership, instead of only towards lowest price. It handles all requirements, including should-requirements, functional requirements and risk parameters. With the help of Robotic Process Automation (RPA) and advanced algorithms, you can now easily manage and evaluate hundreds of requirements with more detail. You get a clear picture of performance at the relevant cost for each tender.
The ProTendering-process:
Do you recognize these problems?
Purchasing and procurement is becoming more and more complex. At the same time, the digitization of the process has not developed to the same extent as the needs.
There is a lot of supporting tools for communication and advertising in the tender process. However, some of the most important parts of the process are still performed mainly manually. For example, compilation of requirements and construction of evaluation models in spreadsheets. A monotonous and time-consuming cut/paste work before you can start sorting and setting criteria. Many models therefore become too simple to capture criteria and parameters that drive procurement towards the most value-creating results. A lot of time is spent on this instead of strategic work and producing a transparent tender forms. The quality of the tenders will be affected, and the tenderer can thus rarely offer innovative solutions that are better than the requirement. The evaluation will also suffer.
There is a lack of modern and advanced tools for buyers / purchasers. We have developed software to meet these needs.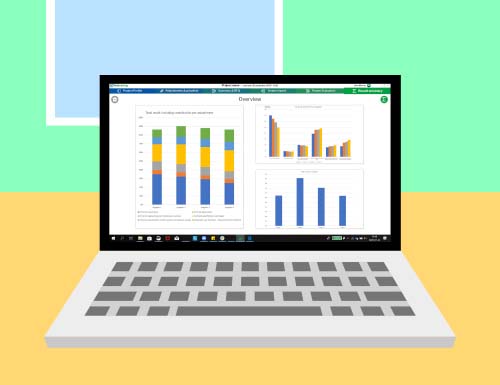 "The bitterness of poor quality remains long after the sweetness of low price is forgotten.

"
The winged words are from the 18th century and come from Benjamin Franklin. They are as relevant today as then and definitely relevant for purchasing / procurement.
The pressure on buyers / purchasers is high today. Internal stakeholders often complain that it takes a long time to get what they want. Management wants low costs and reduced expenses. It is easy to take the shortcut by using only shall requirements and choosing the lowest price. It is seldom that the lowest price is the total economic best choice for the stakeholder and the claimant, as it does not take into account risks, above and below values ​​and can lead to quality deficiencies and delivery problems.
The number of requirements in a procurement is often overwhelming in the different types of documents a procurement consists of. To be able to draw the right conclusions in the end, the process must be correct and structured. Ambitious buyers and purchasers must set up their own models and risk ending up in "Excel Hell". Not everyone is capable or experienced in how to set up models, but even for those who are, it is a time-consuming process.
Too much time is simply spent on work that should be automated. This is where ProTendering comes into the picture.
ProTendering releases your potential as a buyer and purchaser. We give you the tool that significantly increases your professional performance. Our method guarantees quality, safety and efficiency. We help you save time through system support and automation. We provide you with an advanced evaluation tool with mathematical modelling, based on the experience of senior, strategic buyers. You get clear evaluations with reliable and transparent results.
LET US RELEASE YOUR POTENTIAL!